Hawaiʻi Museums Association 2021 Annual Conference
Below you will find bios for each of our presenters and moderators. We will continue updating this page as our panelists continue to send in materials. Mahalo ā nui loa (Thank you) for supporting HMA and participating in our conference!
Panel 1: Keynote Presentation
Rebecca McGinnis is the Senior Managing Educator for Accessibility at The Met. and her colleagues are internationally recognized for their pioneering programs for people with disabilities, especially for blind and partially sighted people. These include Seeing Through Drawing, an innovative class for people who are blind or partially sighted led by teaching artists with various levels of vision; as well as Met Escapes, for people with dementia and their care partners; and Met Signs, a training program for Deaf people to become museum guides and regular programming in American Sign Language. Awards include the Lighthouse Guild's Good Neighbor Award (2016), the American Foundation for the Blind's Access Award (2014), the LEAD Award for Excellence in Accessibility Leadership (2011), and the American Council of the Blind Achievement Award in Audio Description for Museums (2011). Rebecca's publications include "Islands of Stimulation: Perspectives on the Museum Experience, Present and Future" in The Multisensory Museum: Cross-Disciplinary Perspectives on Touch, Sound, Smell, Memory, and Space, ed. Nina Levent and Alvaro Pascual Leone, Rowman & Littlefield, 2014. Rebecca co-convened with Art Beyond Sight the Multimodal Approaches to Learning conference (2005, 2007, 2009, 2012) and was a founding member and co-chair of the Museum Access Consortium (2000-2012). She is adjunct faculty in Johns Hopkins University's Museum Studies MA program, where she teaches Accessibility in the Museum. She holds MAs in Art History and Museum Studies and is a doctoral candidate in Cognitive Psychology at Teachers College Columbia University.
Panel 2: Accessibility & Disability in Museums
Marina George (Moderator) is currently pursuing an MA in Art History (South Asia) and a Graduate Certificate in Museum Studies from the University of Hawai'i at Mānoa. She is a Teaching Assistant in the department of Art History, and moonlights as Arts Assistant for the East-West Center Arts Program. Marina was born and raised in India, where she worked as a researcher on national inclusive education policy and as a disability rights advocate. She is particularly interested in specialized museum programming for people with disability, and has trained for one year as a Graduate Intern in School and Access Programs at the Metropolitan Museum of Art, New York. She has also been involved with Silent Tears, an international multimedia exhibition that raises the issue of violence against women with disabilities.
Adare – As a differently-abled transgender artist and public speaker, inclusion is at the forefront of my work. I incorporate oil paint, gold leaf, and pyrography on locally grown wood to portray the diverse people of Hawai'i. I love working with curators to develop imaginative and interactive exhibits that engage the audience as participants. Additionally, as president of Kipaipai Art Foundation, a non-profit providing art classes to adults and differently-abled children, I am passionate about closing the gap between tolerance and true acceptance. By collaborating with HAAS, Abled Hawai'i Artists, The Womans March and Hawai'i Island Pride, Kipaipai has helped nurture a thriving creative community by painting neighborhood murals, hosting free workshops, donating art supplies, providing shelter and resources to those impacted by the 2018 eruption, and free Zoom classes during Covid-19. As an alumni of the Academy of Art University and The Atelier School of Classical Realism, I also teach an annual fine art program, demonstrating how to apply traditional techniques to contemporary subject matter. We all have the capacity for inspiration, I find mine through art, public speaking and teaching. I love seeing people grow into their own confidence and voice.
Kim Hutchison is the Associate Director of Visitor Services at the Honolulu Museum of Art. Born and raised in Hawai'i, Kim is a graduate of the University of Hawai'i-Mānoa with degrees in Art History, English Literature, and Studio Art. Having started at HoMA in 2012 as a front desk receptionist, her role grew to encompass managing the Visitor Information Center and museum-wide volunteer program. Kim is passionate about a holistic approach to the visitor experience, and currently oversees the entirety of Visitor Services for HoMA.
Jason Moore is 33, an Air Force Veteran, and has spent 8 years working in the Equal Opportunity field, specifically as an Affirmative Action Specialist for a Nonprofit in Denver, CO. He has recently moved to Hawaii to take on the title of EEO Specialist, where he specializes in ADA Titles VI and VII for the County of Maui. He spends his free time golfing and helping to rescue large breed dogs, spending the last 6 years volunteering for Save the Giants Rescue.
Mar Ortaleza has worked over fifteen years helping "uniquely abled" adults achieve economic stability, financial independence and the ability to live fuller lives. He is the Director of Programs for Full Life, a small local nonprofit that assists in the empowerment of people with developmental and intellectual disabilities live self-determined, happy lives. He also founded Abled Hawai'i Artists (AHA) whose mission is to raise awareness about the local community of people with disabilities as an integral part of Hawai'i's vibrant culture. AHA celebrates the spectrum of creativity and promotes inclusive entrepreneurships in the arts. Mar is also a founding member or co-organizer of a variety of inclusive community events such as Hawai'i Island Like Hike Ohana, Pua Na Pua Art Festival, Puppets4Peace Parade, Equality HI and Live Aloha Art Festival. With a passion for championing inclusion and equality, Mar has a personal vision of creating a renaissance of inclusion on Hawai'i Island.
Pauline Victoria
is a Hawaii resident for 14 years, Pauline Victoria has faced a lifetime of overcoming challenges as a woman born without arms and legs. As a college graduate, wife, mother, inspirational speaker, and active advocate for the disability community through her membership on the boards of Assistive Technology Resource Center and the Governor's Disability Communication Access Board, Pauline recently launched One Leg Up Productions, a media company that engages, encourages and empowers people with disabilities.  She is also a Success Coach supporting emerging entrepreneurs to clarify and execute their vision and strategy.
Panel 3: The North Shore Ethnographic Field School: A Conversation on Place-based Storytelling in Waialua
Dr. Ty Kāwika Tengan 
(moderator, he/him/'o ia) was raised in Waiehu, Maui and now lives in Wai'ōma'o, Pālolo, O'ahu. He is an associate professor in the Departments of Ethnic Studies (where he is chair) and Anthropology (where he coordinates the applied cultural MA). He directs the North Shore Field School, an oral history training program run jointly through Anthropology and Ethnic Studies that is sponsored by the Kamehameha Schools 'Āina Ulu program and done in collaboration with the Waialua Hawaiian Civic Club. He has also conducted life story and ethnographic research with members of the Hale Mua organization (published in his 2008 book
Native Men Remade: Gender and Nation in Contemporary Hawai'i
) and Native Hawaiian veterans (as published in several short articles).
Daven Chang is currently an undergraduate student at the University of Hawaiʻi at Mānoa double majoring in Hawaiian Studies and Anthropology. Daven participated in the North Shore Ethnographic Field School in 2019 where he learned how to conduct interviews with kūpuna (elders) from Waialua and to develop story maps. He is passionate about doing ʻāina based research especially regarding places that are under the radar such as Wailupe and Hālawa, Oʻahu. 
Kuʻulei Freed
 received her MA in Applied Cultural Anthropology in 2020 and currently works at Hoʻoulu ʻĀina, a nature preserve in Kalihi that is cared for by Kōkua Kalihi Valley Comprehensive Family Services. Her MA project focused on mapping community moʻolelo and place names in Waialua that were shared by narrators through the North Shore Field School. Her current work at Hoʻoulu ʻĀina includes documenting and sharing community relationships and relief efforts in Kalihi during the COVID-19 pandemic.
Rachel Greiner is an M.A. student in American Studies and Museum Studies at the University of Hawai'i at Mānoa. She has interned at several archives and museums, including the GLBT Historical Society, the Nevada Museum of Art, and the Jean Charlot Collection. Her thesis, tentatively titled Ducks, a Frog, and the North Shore Ethnographic Field School: Community-Based Heritage Center Visions in Waialua, is based on the collaboration between the Field School and community members developing a vision for a heritage center.
Melvin "Moki" Labra is a kupa of Waialua and community consultant for the North Shore Ethnographic Field School. He grew up on the shores of Kapaeloa (or Kapapaeloa), honing his skills to become a skilled fisherman and an award-winning lei maker. As a community consultant, he guides the field school in many ways, welcoming students by sharing knowledge about Waialua, planning field trips, leading and instructing by example through protocol with oli, and directing group reflections.
Panel 4: Removing Financial Barriers with Museums for All
Brendan Cartwright has worked at the Association of Children's Museums since 2014, and administers the Museums for All program, as well as the Freeman Foundation Asian Culture Exhibit Series. Before that, he worked at the National Geographic Museum, and is a graduate of the George Washington University Museum Studies program.
Ashley Jones
is a Program Specialist in the Office of Museum Services (OMS) at the Institute of Museum and Library Services (IMLS). She provides support for all OMS grant programs with a focus on the Inspire! Grants for Small Museums and Museum Grants for African American History and Culture programs. She also participates in the coordination of the Museums for All initiative, a partnership between IMLS and the Association of Children's Museums. Her prior field experience was in archives and education in history museums. Ashley earned a BA in History, with a concentration in American History, from the University of Delaware and an MA in Archives and Public History from New York University.
Amber McCammon is the Director of Programs and Curator at the Virgin Islands Children's Museum. The VICM is located on the island of St Thomas and serves all of the islands in the territory. Amber has developed programs that reach families that may never have the chance to visit the museum and believes accessibility and inclusion are central to the VICM truly being a community service organization.
Amber is a marine symbiologist and continues to conduct marine science research in the territory and loves to share her passion for the sea with others. As a mother and long time member of the St Thomas community, Amber has been involved in numerous events and initiatives that promote early childhood education, including volunteering with the VICM since its inception. Amber now develops and coordinates programs and builds exhibits to showcase and facilitate science, technology, reading, engineering, arts, and math (STREAM) education.
As part of a multicultural and multinational community, the VICM encourages visitors from across the Caribbean and throughout the world to explore, play, and discover together. Amber helps the VICM create an environment that fosters explorative learning and a life-long passion for seeking knowledge.
Panel 5: Digital Access through Apps and Other Platforms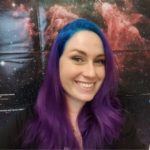 Hadley Andersen (moderator) is currently the Educational Specialist at Lyon Arboretum. She is passionate about informal education and science communication through informal institutions such as museums, zoos, and science centers. After graduating with a bachelor's degree in Theatre and English Literature, Hadley held education positions at Mission San Luis Living History Site in Tallahassee and the Museum of Science and Industry in Tampa, Florida and before moving to Hawai'i eight years ago. She also worked as a Senior Science Educator at the Bishop Museum.
Jessica Adinolfi recently became an Environmental Scientist for the U.S. Army Garrison Hawaiʻi. In her previous position with the Harold L. Lyon Arboretum in Mānoa, she started the arboretum's Geographic Information Systems lab and was responsible for mapping the living plant collection of around 19,000 taxa. Jessica fell in love with the people and plants of Hawaiʻi after studying at the National Tropical Botanical Gardens on Kauaʻi in 2010.
Audrey Blair is the Public Programs Manager at the Kona Historical Society. In her role she creates and manages both in-person and virtual programming for the Kona community and beyond. As a response to the 2020 Pandemic Audrey launched a virtual Donkey Story Time and a virtual School Field Trip program, reaching over 200 students from 3 islands in the program's first month. Drawn to connect more deeply with her Portuguese heritage, Audrey first traveled to Kona in 2018 to research her family's history in the Jean Greenwell Library and Archives. Prior to her work at Kona Historical Society she was the Operations Manager for Habitot Children's Museum in Berkeley, California. In June 2019, Audrey completed her formal education receiving a Master of Arts in Museum Studies with a specialization in Education and Interpretation and an MBA from John F. Kennedy University.
Nohelani Frizzell is the Founder and President of Native Stories. She is also an active waʻa (6-man, 1-man, sailing) paddler, the Director of Na Wahine o Ke Kai, and an Electrical Engineer that lives on Waimānalo Homestead, Oʻahu. She received her Executive MBA from UH and Masters in Electrical Engineering from Cal Poly Pomona. She started the No Single Use Plastic Campaign for Na Wahine o Ke Kai in 2018 with 35% participation in its first year. Her inspiration for Native Stories came from huakaʻi with community programs and use of Rick Steveʻs Europe mobile app.
Panel 6: Philanthropy Work—From Grantmakers to Grantseekers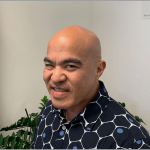 Stacy Hoshino (Moderator) has been a grants director at Hawai'i Council for the Humanities for 10 years, and a former board president of Hawai'i Museums Association.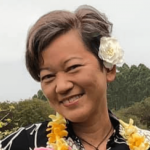 Noelle M.K.Y. Kahanu (Kanaka ʻOiwi/Native Hawaiian) is a fifteen-year veteran of the Bishop Museum in Honolulu, HI, where she developed scores of exhibitions and programs. She worked on the renovation of Hawaiian Hall (2009), Pacific Hall (2013), the landmark E Kū Ana Ka Paia exhibition (2010), and more recently has been involved in international repatriations. She has a law degree from the University of Hawaiʻi at Mānoa, where she currently serves as an assistant specialist in Public Humanities and Native Hawaiian Programs within the American Studies Department. Her current research and practice explores the liberating and generative opportunities when museums "seed" authority rather than "cede" authority.
Mandy Kirchgessner has worked for museums, zoos, and nonprofits across the country for over 15 years. By way of her roles as an informal educator, she has learned how to cultivate support and secure grants in order to stabilize and grow program opportunities. She is passionate about the positive impacts that informal education experiences make on learners of all ages, and is eager to help other Museum professionals find ways to bring their program visions to life.
Elise von Dohlen is a Program Officer with the Hawaii Community Foundation's Community Grants and Initiatives department. She supports grantmaking for several programs focused on arts, youth development, literacy, and supporting aging in place for Hawaii's kupuna. Previous to joining the Foundation, she worked at the Legal Aid Society of Hawaii as the Director of Grants Management.
Mary Ramsay has worked in donor and foundation relations in museums and higher education for over 20 years. She came into grant writing 40 years ago as a dancer seeking grants for a small dance company in Pittsburgh, PA. Mary was a student in the social justice education graduate program at the University of Massachusetts and is trained as a social justice mediator. She has facilitated workshops addressing white privilege and embodied justice and tries to bring this lens to the fundraising work that she does.
Jessica Welch grew up all over the world and has worked in Hawaiʻi's museums for two decades. She believes in the power of cultural sites to help humans connect, learn more about themselves, and their place in the world.
Panel 7: Access During a Pandemic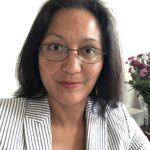 Lisa Solomine (Moderator) is the President of the Hawaiʻi Museums Association and the Deputy Director of Administration at Hawaiian Mission Houses Historic Site and Archives.  She has made Hawai'i her home for the last eight years and is a native New Yorker with a background in exhibition design, curation, and arts management. Lisa has curated several exhibitions in New York City, Berlin, Wiesbaden, and London. Both her B.A. in Visual Communication, and M.F.A. in Exhibition Design/Design were awarded by Berlin University of the Arts, Germany.
Kamalu Du Preez (Moderator) is Kanaka ʻŌiwi and has worked in the museum field for 18 years. She currently serves as the Assistant Collection Manager for Ethnology at the Bernice Pauahi Bishop Museum in Honolulu. She has a B.A. in Anthropology & Art from the University of Hawaiʻi at Mānoa. Kamalu is an advocate for decolonization and indigenous agency within museum institutions, and she is a dedicated kapa practitioner and community educator
Jason Foberg is a graduate of the Museum Studies program at the University of Hawai'i at Mānoa who has worked for the Bernice Pauahi Bishop Museum over the past 6 years. Recently he has taken on the role of Manager of Visitor Experience, allowing him to create a culture of understanding museum guest experiences and making changes to create a better experience for all. During the COVID-19 pandemic, Jason, along with his Education counterpart, created a new program that helped reintroduce the museum to the local community in a fun and educational way. Jason earned his BA in History with a focus on Indigenous Education and Women, Gender and Race from the University of Connecticut in 2014 and his MS in Nonprofit Organizational Leadership from the University of Denver in 2020.
Kapalikūokalani Maile has six years of experience as a member of the Bernice Pauahi Bishop Museum's Education team, with evolving roles as Culture Educator, Cultural Content Coordinator, and presently as Education Programs Manager. Prior to working in the Education Department, Kapalikū served as an intern within the Cultural Collections division of the Museum from 2008 to 2011, during renovations leading up to the reopening of the Hawaiian Hall Complex. He graduated from Hawaiʻi Pacific University in 2009 with a BA in Anthropology, focused on Kānaka Maoli (Native Hawaiian) connections to community and place. In his role as Education Programs Manager, Kapalikū supports his team of five staff members in the Culture and Science Education teams by guiding school-age and program development, supporting on-site duties with public visitors, docent training and engagement, along with general support of frontline staff at the Museum. He and the larger Education team have worked on pivoting nearly all current school offerings to virtual formats and providing access to Museum resources to students and parents learning from home.
Yvonne Manipon completed her Master in Arts Administration at the School of the Art Institute of Chicago and earned her Bachelor of Arts degree at the University of Oregon, where she majored in Fine and Applied Arts and Art History. Currently, Yvonne is the School Program and Volunteer Coordinator for HMH. In addition to being an accomplished visual artist, Yvonne has extensive experience as an educator and creator of interactive learning experiences at both the K-12 and higher education levels. 
Mike Smola, Curator of Public Programs, has a B.A. in History and a Certificate in Museum Studies from Michigan State University. He has been at the Hawaiian Mission Houses Historic Site and Archives since 2008. Previously, he was part of the education staff at the Turner Dodge House in Lansing, MI and was a member of the collections and Exhibitions staff at Michigan State University Museum. He is a member of the Association of Living History Farms and Agricultural Museums (ALHFAM) since 2011 and served on the Board of Directors for ALHFAM from 2016-2019.
Macie Tawata works at the Hawaiian Mission Houses as a school programs assistant and a special tours coordinator, running the Hawaiian Perspective Tour and Hale Pili tours for students and adults alike.
Panel 8: On the Horizon of 2021: Future Projects and Directions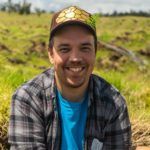 Halena Kapuni-Reynolds (moderator) is an HMA board member, born on Hawaiʻi Island and raised in the Hawaiian homestead community of Keaukaha and the upper rain forest of 'Ōla'a. He holds a B.A. in Anthropology and Hawaiian Studies (UH-Hilo), and a M.A. in Anthropology with a focus in Museum and Heritage Studies (University of Denver). Currently, Halena is a doctoral student and the graduate assistant for the Museum Studies Graduate Certificate Program in the Department of American Studies at the University of Hawai'i-Mānoa. He has co-organized a range of museum-related events in Honolulu, including "Seeding Authority: A Symposium on Museum Decolonization" (2018) and a series of material culture/object interpretation workshops in partnership with the Hawaiʻi Mission Houses Historic Site and Archive (2019).
Chucky Boy Chock is the Executive Director of the Kauaʻi Museum. As the director of this museum, he wears many different hats from facilities maintenance to education to marketing. He finds his work to constantly inspire him and that is truly an honor to mālama treasured objects that share some of the most beautiful stories in the world. He looks forward to leading the Kauaʻi Museum into the future and to ensure its preservation and existence for future
Nikki Cristobal currently serves as the Executive Director of Kamāwaelualani Corp. She was born & raised on Kaua'i. She earned a double Bachelor's degree in Sociology and Women's Studies and an M.A. in Counseling Psychology from Washington State University. She is a Ph.D. Candidate in Educational Administration and Policy Studies with a focus on Social and Comparative Analysis, specializing in Indigenous epistemologies, place-based education, critical race and gender studies, and equity and justice studies. She is an active member of the community as a member of The Zonta Club of Kaua'i and as part of the Hale 'Ōpio Board of Directors. Her skill sets include grant writing, research, and community engagement. The entire reason Nikki pursued her education was to use her knowledge and skills to give back to the community and lands that raised her.
Isabella E. Hughes was born and raised in Honolulu and is now based in Hilo. Hughes' career spans the arts, entrepreneurship, and startups in both the non-profit and commercial space. For the last 15 years, she's worked as an independent curator, editor, and art critic locally and internationally, in addition to co-founding and launching Hawaiʻi Contemporary (formerly Honolulu Biennial Foundation), where she presently serves as board chair. Most recently, Hughes opened with Ara Laylo and Rosina Potter Above the Equator, a new hybrid gallery with a project space located in historic, downtown Hilo. Above the Equator is dedicated to promoting artists working from the countries and cultures near the equator, with a strong focus on artists of Hawai'i. Hughes earned her B.A. in art history from Boston University and M.A. in Museum Studies from Johns Hopkins University.

Alice Cabael Kaʻahanui is the Executive Director for the Molokai Arts Center. She earned her BA in Communications (English minor) from Chaminade University of Honolulu, worked in its Financial Aid Office, and served on its Alumni Reunion Committee for over ten years beginning with the school's 50th Anniversary. She worked for USDA Rural Development assisting with Molokai's Enterprise Community Zone strategic planning process. Her experience in education includes helping adults earn their high school diploma (part-time teacher for Maui Community School for Adults-Molokai), substitute teaching, and teaching Health at St. Andrew's Priory. She also gained valuable experience from her work at the Priory as the Principal's Assistant, Alumni Relations & Special Events Coordinator, and co-chair of the school's 140th Anniversary. She was the Office Administrator for Kamaka Hawaii, Inc., Hawaii's legendary ukulele crafters through its 100th anniversary before moving back home to Molokai where she was born and raised. She continues to be active in various community organizations. She was a freelance photographer, has been doing genealogy work for over 35 years, and enjoys graphic design and gardening. The child of a Sakada, Alice lives by a shared Filipino and Hawaiian proverb – "You cannot go forward without looking back."
Noelle M.K.Y. Kahanu (see bio in panel 6)
Dr. Barbara Moir is President and Executive Director of the Lyman House Memorial Museum in Hilo, where her responsibilities also include Education and Operations. She earned a B.A. in Social Sciences from Fordham University and an M.A. and Ph.D in Anthropology from the University of Hawaii at Manoa. She has worked as an educator, administrator, and museum professional for more than thirty years, the last fifteen of them at the Lyman Museum. Her interests include culture history and culture change, island and atoll ecosystems, and the prehistory and history of Oceania, particularly Hawaii and the Polynesian outliers. Barbara conducted three years of ethnoarchaeological research on Takuu Atoll, a Polynesian outlier in Melanesia, in connection with her Ph.D. dissertation. She and her colleagues at the Lyman Museum are dedicated to fulfilling its mission "to tell the story of Hawaii, its islands and its people."
Shelly Preza is proud to be from Lānaʻi, where her family has lived for generations. She attended Kamehameha Schools: Kapālama and earned a B.A. in English with a minor in Ethnicity, Migration, and Rights from Harvard College. She is now fortunate to be working back home in cultural preservation with the Lānaʻi Culture & Heritage Center and Pūlama Lānaʻi.
Brett Oppegaard, Ph.D., researches intersections of technical communication, mobile technologies, journalism, public rhetoric, and media accessibility in interdisciplinary ways. His research project, The UniDescription Project, www.unidescription.org, focuses on Audio Description and improving media accessibility, especially for people who are blind or visually impaired. He also has been the Undergraduate Chair of UH's Journalism Program since Fall 2019.
Dr. Teri Skillman is the Executive Director of the Hawaiʻi Arts Alliance. She earned her Ph.D. and M.A in Ethnomusicology from the UH Mānoa Music Dept. Trained as a musician and a dancer, she has worked as an arts administrator and educator for thirty years, teaching in international schools; lecturing at UH in ethnomusicology and music education; and working in the arts nonprofits. As an arts administrator, she developed public programs and exhibits for the Judiciary History Center, UH Mānoa Hamilton Library, Museum Studies and Historic Preservation, and the Center for South Asian Studies. As a former folkarts director for the state of New Jersey, she has directed the Northwest Jersey Folklife Project. As Hautree Consulting, Teri developed two middle school jazz and Latin jazz bands for the New Jersey Performing Arts Center, organized teacher workshops on the Arts, and coordinated school visits to NJPAC. Teri's work includes research projects, development of educational materials and K-12 curricula, traveling exhibits, performances, professional development workshops, traditional arts expositions, internships for college students, and development of an artists' referral database. Teri organized two TEDxMānoa events focused on Native Hawaiian Knowledge in the 21st-Century for UH Mānoa Hamilton Library (2012 & 2013) and the observance of the Overthrow of the Hawaiian Kingdom event, E Ola Nā Mele Lāhui, in the Hawai'i Supreme Court (1/17/18).
Final Reflections Discussion
Dr. Karen Kosasa is the director of the Museum Studies Graduate Certificate Program and Associate Professor of American Studies, University of Hawai'i at Mānoa. She is a third generation Japanese American whose research interests are in museum studies, visual culture, critical pedagogy, and settler colonialism.  She is especially interested in the relationship between settler populations and indigenous peoples, and the representation of this relationship in museum exhibitions, in the promotional literature produced by museums, and in references to this relationship by museum professionals, scholars, and critics.
Kristin Remington is the Digital Assets & Collections Manager at the Shangri La Museum of Islamic Art, Culture & Design on O'ahu. Her work there includes developing the museum's digital assets policies, acting as registrar for the museum's historic art collection, overseeing its library and archives, and working to maintain and improve the museum's database and public access to its online collections database. She grew up in Ha'ikū, Maui, and has an MA in South and Southeast Asian Art History and a Graduate Certificate in Museum Studies from the University of Hawaiʻi at Mānoa. Her research interests include digital empathy and literacy, interactive media, and the use of gamification in museums.
Ryan Mandado is Chief Academic Officer of DreamHouse 'Ewa Beach PCS.  Prior to this position, he was the Special Education Department Head at James Campbell High School in 'Ewa Beach, Hawai'i.  In his role, he supported 30 SpEducators who serviced 300 students in Special Education across multiple settings from medically fragile facilities to inclusion.  Prior to his Department Head role, he taught English Language Arts, Social Studies/History, and Science.  He also taught Competency-Based Programs at Waipahu Community School for Adults.  Growing up low-income in Kalihi taught him the value of service leadership.  He continues to be a strong community advocate and was Chairman of the Kalihi-Palama Neighborhood Board for 5 years.  Ryan has Bachelor of Arts degrees in Mandarin Chinese and American Studies, a Master of Science in Education degree from Johns Hopkins University, and he is currently a full-time doctoral student in education leadership at the University of Hawai'i at Mānoa.  He is passionate about culturally relevant pedagogy, critical pedagogy, anti-racist androgogy, and inclusive classrooms practices for students with disabilities.